Jerome Doczekalski
Had Put His Life on Pause: The Negative Effects of Peripheral Artery Disease
After four years of severe leg pain holding him back from doing the things he loved, Jerome treated his Peripheral Artery Disease and got his life back.
Jerry Doczekalski is 63 and enjoys living in Niles, Illinois. He had found himself in good health until about four years ago. He had been experiencing leg problems including an ulcer on one leg and continuous pain in both legs. Additionally, Jerry had noticed that an infection in his toe just wasn't healing like it should have.
At first, he thought it was an irritation from not properly treating a blister on his toe, but the problem didn't stop at his feet. When Jerry was mowing the lawn, he would find that he had to frequently stop because of the severe pain in his legs.

"While I was cutting my lawn, I would have to stop because of the pain in my legs."
As the pain got worse, his friends began to ask him, aren't you going to see a doctor about this? And eventually Jerry ended up seeing a doctor because the pain in his calves made it feel like he couldn't move his legs anymore. The pain affected more than just his legs, people around him would notice he was much crabbier when he was experiencing excruciating pain in his calves.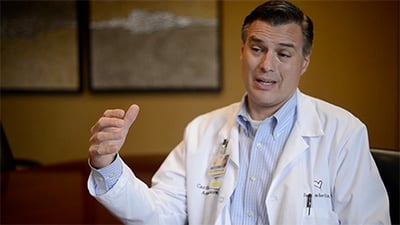 At first, Jerry Doczekalski went to see a foot and ankle specialist, hoping for answers about his calf pain. The doctor was surprised when examining his feet that he couldn't feel a pulse in Jerry's foot which was the cause of why his toe infection was not healing. The doctor recommended that Jerry see an expert like Dr. Jack Chamberlain.
Finally, a Solution
After suffering from leg pain for years, Jerry was continually told by doctors that the there was no treatment for his leg pain and surgery and angioplasty were not viewed as an option for him. After experienced a diminished quality of life for years with no end in sight, Jerry was surprised when Dr. Chamberlain diagnosed this pain as a side effect of Peripheral Artery Disease.
Jerome was suffering from a 23-centimeter long total occlusion of his artery. The artery in his leg was so blocked that it was creating severe calf pain for him anytime he walked or exercised.
Luckily, Dr. Chamberlain had a solution. Through a Lumivascular procedure, he would be able to see inside of the artery and unblock the plaque that was causing the occlusion. Jerry was on board because he, "immediately got the concept that it would be easier to get through the blockage if Dr. Chamberlain could see where he was going."
In the end, this case was extremely successful. Dr. Chamberlain was able to successfully go through the entire occlusion because he was able to see the images on the scope that helped him identify the diseased tissue from the healthy tissue.
Dr. Chamberlain loves being able to help patients through peripheral arterial work. Peripheral Arterial Disease (PAD) can really incapacitate a person and stop them from getting around because of the painful ulcers on their legs. Dr. Chamberlain says, "I've had more patients thank me for giving them back their leg health than their cardiac health, I would have to say."
A Changed Man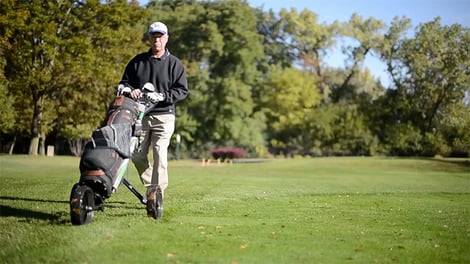 When Jerry came back for his first clinic visit, Dr. Chamberlain could tell he was a changed man. His spirits were light and happy, he was getting a tan and he was golfing again. Because of his Lumivascular procedure he was able to resume to his normal life again. Jerry was so grateful to Dr. Chamberlain for having "really saved his life."
Within just a few days after the procedure, Jerry was up and walking around without the debilitating pain in his calves. He was able to walk the golf course without having to stop for the first time in four years.
Nowadays, Jerry is feeling better than ever. Without any leg pain bringing him down, he is able to get back to doing the things that he loves. Because of his amazing doctors and the Lumivascular procedure, Jerry is able to get outside more to cut his grass and to do gardening work.
If you are suffering the symptoms of peripheral artery disease, a minimally invasive Lumivascular procedure can help establish blood flow to your legs and feet. To find a Lumivascular doctor near you, click here to find a doctor.
Take Action:
If you have found this article helpful, please don't forget to share!