Relief From Leg Pain Due to Peripheral Artery Disease
After surviving breast cancer and a life-threatening bout of sepsis, Gabrielle thought her worst days were behind her.
At age 52, Gabrielle, an artist and mother, enjoyed a healthy lifestyle. She no longer ate meat or dairy, and the highlight of every day was a brisk 7 kilometer walk with her husband around Lake Maschsee, a large lake located close to where she lives in Hanover, Germany.
Battling Mysterious Leg Pain
"My husband and I were used to walking quite quickly, but suddenly I wasn't able to do it without stopping."
What she thought were harmless leg cramps at first seemed to get worse every day. "I had to stop more and more often. The pain became so bad, I had to stand still and hold my legs with my hands. I thought, 'Oh. What is happening to me?'"
Soon she could no longer walk more than a few hundred feet without collapsing. "I was scared the cancer was back or something else really bad. I didn't want to go to the doctor. I put it off for months," Gabrielle says.
Her Diagnosis: Peripheral Artery Disease
Gabrielle was diagnosed with Peripheral Artery Disease (PAD), a common circulatory problem in which plaque builds up inside the arteries and obstructs blood flow to the lower limbs and feet. Patients who develop PAD usually notice hip, leg or calf pain (called "claudication") when walking. This pain occurs because the peripheral arteries are not able to deliver enough blood flow to the surrounding muscles.
Though PAD, by definition, refers to the peripheral arteries, the process of atherosclerosis(the widespread accumulation of arterial plaque) is systemic and affects the entire body. Approximately 40-60% of patients with PAD also suffer from coronary artery disease.
Gabrielle's biggest fear was that she might lose the use of her legs and no longer be able to walk with her husband around their beloved Lake Maschsee — or anywhere else.
New Treatment Offers Hope
A variety of treatments were offered to Gabrielle, ranging from surgical bypass on both legs to balloon angioplasty. Unfortunately, her vascular surgeon, Dr. Arne Schwindt advised her that both of those treatments "have a high rate of recurrent disease. Since she was only 52 years old, we wanted a therapy with a longer lasting effect."
Luckily for Gabrielle, Dr. Schwindt was now offering a minimally invasive technology called the Pantheris lumivascular atherectomy system. "The device offers me surgical precision in plaque removal, something I do not have in any other endovascular treatment modality," Dr. Schwindt explains.
The Pantheris tool removes plaque from the artery, and the Lumivascular procedure allows the doctor to see a three-dimensional view inside the artery. "This allows me to see the structure of the vessel wall," he says.
In the past, atherectomy, a technique to remove plaque from the blood vessel was dangerous for patients because of the risk of injuring the vessel wall, causing bleeding, he explains. "That's all avoided with the Patheris tool. It allows me to remove the diseased parts of the vessel without injuring the healthy parts. That's why I offered it to Gabrielle."
While Gabrielle she had a lot of fear initially, Dr. Schwindt explained the procedure so well that it gave her the confidence needed to proceed. "He gave me so much hope. I trusted him from the start."
Success: Lumivascular Procedure Restores Blood Flow

"Suddenly I had warm feet, which I never had in my life."
Following the 2.5 hour procedure, Gabrielle woke up surprised that she could feel the blood flowing to her feet once again. "Suddenly I had warm feet, which I never had in my life."
The pain relief was immediate.

If she'd opted for a bypass, Gabrielle was afraid that she would have spent several weeks recovering, but with Pantheris, she was released from the hospital after just one day. She returned a month later to get the same procedure for her other leg.
The day after the second procedure, Gabrielle and her husband were back to walking around the lake. "At last, I was pain-free and didn't have to take any stops."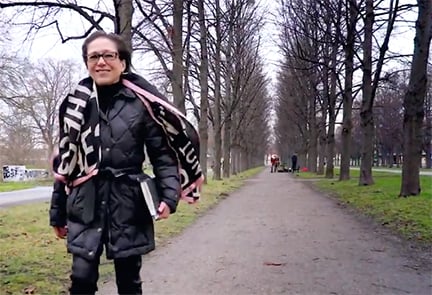 Now she walks so fast her husband can barely keep up with her. "My legs are working so properly as they never did in my life before. I'm so grateful. I feel like the sun that's come out after a long, dark winter."
If you are suffering the symptoms of peripheral artery disease, a minimally invasive Lumivascular procedure can help establish blood flow to your legs and feet. To find a Lumivascular doctor near you, click here to find a doctor.
Learn more about Lumivascular atherectomy
Find a Lumivascular physician in your area.
If you have found this article helpful, please don't forget to share!