Peripheral Artery Disease Throws A Curve Ball to Detroit Tiger Great, John Hiller
Lumivascular atherectomy got the former major league baseball pitcher back in the game.
Former Detroit Tiger pitcher, John Hiller, is not someone who likes to be sidelined. After suffering the symptoms of PAD for over 20 years, Hiller feared losing his leg to the same disease process that almost ended his baseball career.

Stories like Mr. Hiller's are shocking: three years after pitching in the 1968 World Series and helping the Tigers bring the pennant back to Detroit, John Hiller's baseball career was put on hold due to a major heart attack on January 11th, 1971 at the young age of 27. Wait - a 27-year-old professional athlete suffering a heart attack?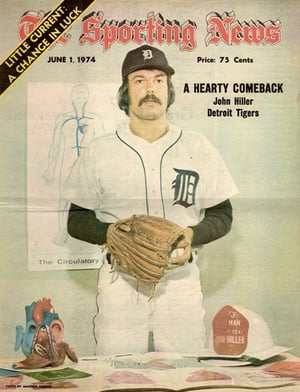 While heart disease is commonly associated with smoking, and Hiller had been a smoker since the age of 13, Hiller's primary culprit was extremely high cholesterol. The offseason after his heart attack, Hiller worked harder than ever to improve his health. By his 28th birthday, he had lost 40 pounds and was in top shape. After receiving treatment for high cholesterol, he had to convince Tigers' management that his was ready to return to baseball.
Midway through the 1972 season, manager Billy Martin put him back in the game. After the 1973 season, Hiller won numerous awards including Sporting News' Comeback Player of the Year and the American Heart Association's Heart of the Year Award. He would go on to put up his best numbers as a relief pitcher. In 1980, Mr. Hiller hung up his glove, completing a 13-year MLB career, all as a Detroit Tiger.
Peripheral Artery Disease Cuts Coaching Short
By 1986, Mr. Hiller found himself back in the dugout, returning to baseball as a pitching coach for the Tigers. At this point, life was good; he loved his new coaching career and he hadn't had a health scare in years after his heart attack. Unfortunately, his health began to take a turn for the worse in 1988.
Mr. Hiller states, "I was out running with the kids and I had noticed that I had a little leg cramp once in a while, but I was getting up in age a bit. And all of a sudden, my calf just bound up and I couldn't even move." John continued to write off the pain stating, "I didn't pay attention for a while. I guess I'm a typical man, I just ignored it."

I didn't pay attention for a while. I guess I'm a typical man, I just ignored it." – John Hiller
But after the cramping happened again and again, John Hiller went in to see a vascular surgeon. He was told that he had Peripheral Artery Disease (PAD) and had a severe blockage in his leg. The vascular surgeon told him he would need an amputation. Hiller said, "I ran out of there about as fast as I could. But at this point I couldn't work anymore and I didn't want to be limping around the field. So, I just retired and really didn't know what to do."
Heart Disease and Peripheral Artery Disease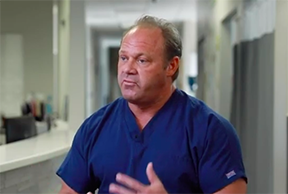 John was actually predisposed to developing PAD because of the high cholesterol that had led to his heart attack earlier in life. In addition to the high cholesterol, John also had a history of smoking and hypertension which are also major risk factors for Peripheral Artery Disease.
According to Dr. Scott Brannan, "The two are very intimately related, because the same risk factors that predispose someone for coronary artery disease predispose that same patient for peripheral artery disease."

I'm just so nervous about anybody touching my legs."
– John Hiller
Peripheral Arterial Disease (PAD) is a condition similar to Coronary Artery Disease where plaque builds up in the arteries. When the arteries become narrowed or blocked, this condition is known as atherosclerosis.
If a narrowing or blockage does not allow a sufficient amount of blood to nourish organs and other tissues, people with PAD may develop leg or calf pain (called "claudication") when walking or even at rest.
Retirement: Benched by the Symptoms of PAD
At 45 years old, Mr. Hiller was fearful that he wasn't going to be able to do anything anymore. "I was so protective of that leg. I thought if I went anywhere and anybody touched it and there was a sore or a cut, then I couldn't maybe heal and then I might lose that leg. So, I didn't go anywhere for years," states Mr. Hiller.
Looking for something to do, a friend of his asked, "Have you ever thought about golfing?" Mr. Hiller tried it and fell in love with the sport. After all, the sport offered several advantages. He could stand in a tee box, sit in a cart, walk a little bit to hit the ball and without too much exertion on his legs.
PAD Handicapped His Game
Unfortunately, with the pain in his calf, it became harder and harder to play the game he loved. He couldn't walk 50 yards without his foot cramping up, which would force him to stop walking. Because Peripheral Artery Disease limited his movement so much he said, "I had to drop out of the country club and it broke my heart."
While describing his symptoms to a family doctor, Mr. Hiller was referred to Dr. Scott Brannan for an evaluation. At this time, Mr. Hiller had gone from having pain with walking and had now developed pain at rest.
"Pain at rest" or "Rest Pain" is a serious symptom of advanced Peripheral Artery Disease. Rest pain can be a sign of complete blockage know as a CTO or Chronic Total Occlusion. Even with this information, Mr. Hiller was still scared of losing his leg stating, "I'm just so nervous about anybody touching my legs."
During a second appointment, Dr. Brannan assured him, "John, I am fully confident that I can treat you safely and effectively."

I needed to use a device that ensured his safety, because I had promised him that I had full confidence I could treat him safely and effectively."
– Dr. Scott Brannan
Lumivascular Atherectomy: Safely and Effectively Restoring Circulation
Dr. Brannan said, "I knew that I needed to use a device that ensured his safety, because I had promised him that I had full confidence I could treat him safely and effectively."
The device was Avinger's Pantheris Lumivascular Atherectomy catheter. Pantheris is the only device that features an imaging system so the doctor can see inside the artery. This allows for removal of plaque without injuring the inside of the artery.
According to Dr. Brannan, what is unique about a Lumivascular Atherectomy is that "it allows us to actually see in real time what we're going to be cutting out, and it's the only device that does that."
John Hiller said, "the fact that they've got that camera going down in there and they can see the blockage and they can go down and remove that blockage and remove the plaque and bring it out is remarkable."
What is an atherectomy?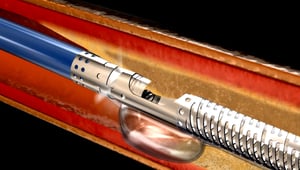 An atherectomy is a procedure that removes the plaque out of the leg at the point of blockage. By removing plaque, blood flow is restored helping to eliminate leg pain and heal any wounds in the feet. Other procedures like ballooning or stenting, leave the plaque in the artery by squishing it to the side. One way to think of it is like a plumber cleaning out your pipes. Would you want him to squish the blockage to the side or remove it? Learn more about atherectomy
The Outcome: Mr. Hiller is Back on Course
After a short procedure, John was able to walk again the same day. The next day, John woke up feeling really great. Not too long thereafter, he called Dr. Brannan to ask, "Doctor, can I go golfing on Saturday?" Dr. Brannan replied, "I don't see any reason why not."
Now with no leg pain while walking or resting, John Hiller's life has significantly changed for the better. He re-joined his country club and spends his free time with his friends golfing.
Mr. Hiller wants people to know "that there's help out there and don't sit back and think your life's over. Don't be afraid to take a chance, take the next step and just do what I did."

There's help out there and don't sit back and think your life's over." – John Hiller
If you are suffering from the symptoms of peripheral artery disease or told you need an amputation, please explore your options! A minimally invasive Lumivascular procedure may help establish blood flow to your legs and feet. To find a Lumivascular doctor near you, click here to find a doctor.
Take Action:
If you have found this article helpful, please don't forget to share!